Fast. Simple. Platform for sub-second analytics in less then 10 minutes
DoubleCloud's platform helps you build sub-second data analytical solutions and pipelines on proven open-source technologies like ClickHouse® and Apache Kafka®.
Our platform is trusted by real engineers
Open-source technologies proven to meet the needs of data engineers
We designed our platform to bring you fully managed open-sourced technologies: ClickHouse offering performance 100-1000X faster than traditional DBMS and Kafka, the best industry solution for real-time data processing.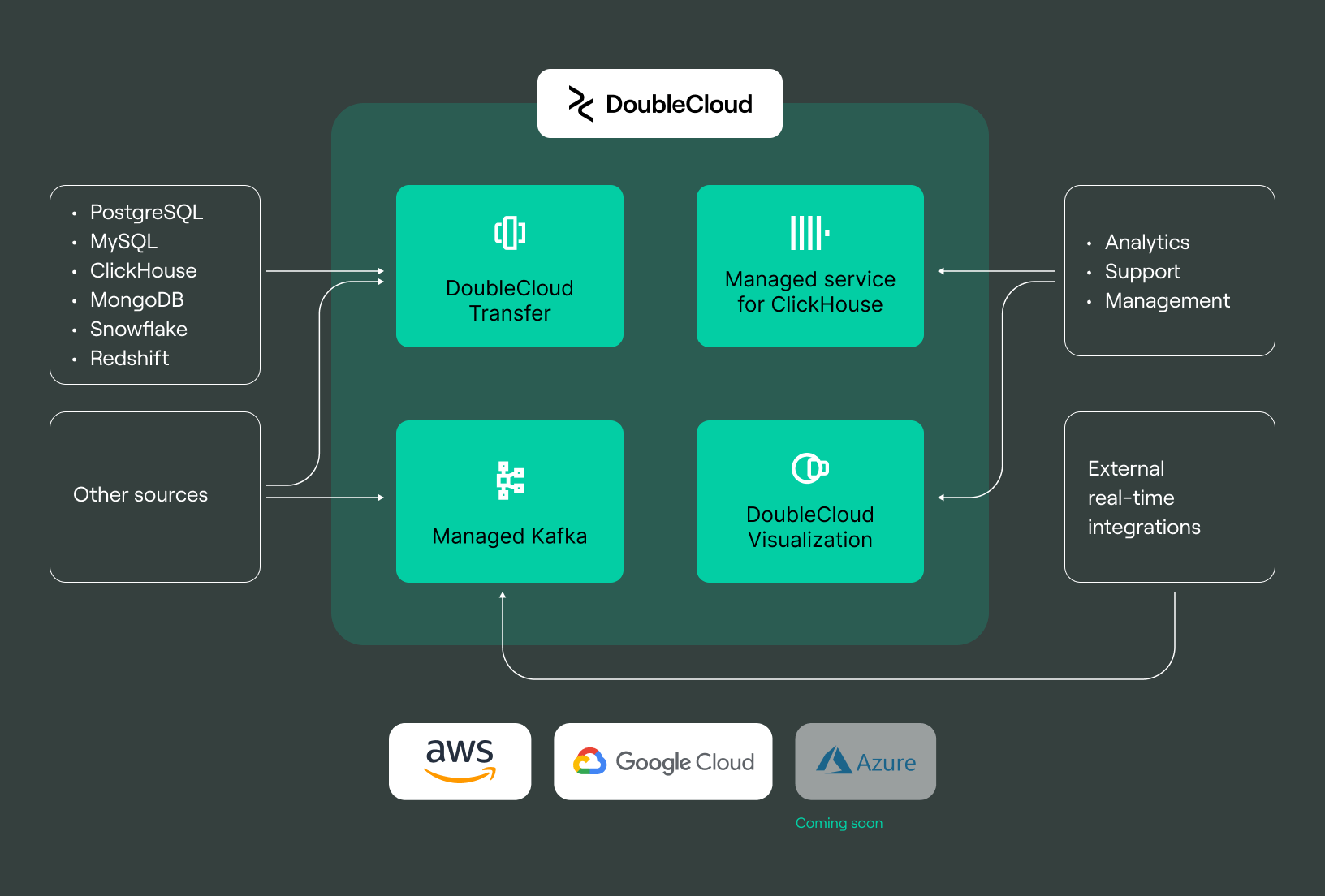 A modern data stack for end-to-end analytics
DoubleCloud is more than just managed databases: it aggregates, stores, transfers and even visualizes your data. Built-in data transfer allows you to ingest data from external sources (e.g. Facebook or Google ad platforms) while our free BI tool helps you create dashboards in just one click.
A growing range of cloud providers and regions
DoubleCloud is on trusted global cloud platforms. Currently integrated with AWS, with Google Cloud and Microsoft Azure and other providers coming soon.
Hybrid storage backed by S3 for cost efficiency
With DoubleCloud, you can build data analytics at SSD storage speed and Amazon S3 prices. And using ClickHouse, you'll spend 5x less by automatically decoupling the latest or most frequent data directly to SSD and the less frequent data to S3.
Watch and Go
Here's an easy step-by-step tutorial video on how to create an account to use the DoubleCloud platform to achieve sub-second analytics, based on open-source technologies
ClickHouse® is a trademark of ClickHouse, Inc. https://clickhouse.com

Apache® and Apache Kafka® are either registered trademarks or trademarks of the Apache Software Foundation in the United States and/or other countries.