The power of user-facing analytics across industry sectors
In the data-driven world of today, user-facing analytics play a pivotal role across various sectors such as Software as a Service (SaaS), Advertising Technology (AdTech), Educational Technology (EdTech), Gaming, and eCommerce. This article explores how businesses can leverage analytics to tailor user experiences, improve partner/customer relationships, and drive growth.
SaaS
When implementing user-facing analytics for a SaaS product, creating reports and dashboards that are easy to understand and accessible to users of all analytical skill levels is essential. An outsourced solution might be a strategic approach to significantly reducing time-to-market and scaling the product. But how can you tailor analytics to meet the needs of your users while also improving the partner and customer experience?
Make it seamless: make it simple for users to access, share, and visualize data via simple charts and dashboards.

Provide contextual visualizations: make data visible and accessible alongside other relevant information.

Provide personalized, real-time data access: show quick snapshots of relevant KPIs (based on user permissions)

Enable data filtering tools: share only relevant information and provide users with customizable options.

Allow data pull: make reports downloadable so users can analyze their data in various ways.
Personalization, upselling opportunities, product refinement in response to partner/customer feedback, expanded market reach, and customer loyalty are just a few of the benefits of partner/customer analytics for SaaS companies.
A good example of SaaS partner-facing analytics is "Fan Insights" by Spotify". This tool helps artists analyze their audience and make better-informed decisions by highlighting fan engagement, listening habits, geographic segmentation of listeners, and more. It also offers customer-facing analytics in the form of personalized dashboards, where users can access information like the number of songs they listened to in a year or the ranking of their most frequently played artists.
AdTech
The large ecosystem is made up of advertising agencies, brand advertisers, and AdTech platforms that are always under pressure to win over customers and get the best return on investment (ROI). All while adhering to rapidly changing data privacy, governance, and security regulations.
The stakeholders collect different types of data from various sources, such as websites, online ads, social media, CRM systems, and so on. In a fiercely competitive and saturated market, AdTech organizations must adopt modern data infrastructure as well as partner-facing and customer-facing analytics. Partner-facing analytics can be tailored to meet the unique requirements of various business units:
Operations: real-time monitoring of budget spend, intelligent customer results, and revenue forecasting

Performance: campaign efficiency and optimization, improved ad operations, and real-time bidding
When reporting on the effectiveness of advertising campaigns, for example, it is critical that the data be detailed and available in real time. Advertising agencies often handle advertising budgets for numerous clients and numerous campaigns, leading to a massive volume of data to analyze. However, due to the overwhelming amount of data, reporting can become infrequent and delayed, which makes it difficult for clients to respond promptly to ineffective campaigns.
Creative: A/B testing, content performance, optimized creative workflow, placement, and format recommendations
Recommendation services are instrumental for AdTech platforms in improving ROA. To ensure the quality of these services, rapid analysis of massive data volumes is required, making platform selection and response speed critical factors.
Here are some advantages to using a third-party service provider for partner- and customer-facing analytics:
Data sharing and secure collaboration

Real-time analytics to improve decision-making.

Gathering and analyzing data from multiple platforms to produce actionable insights.

Improved campaign effectiveness, as well as increased marketing ROI and advertising revenue.
EdTech
Data users in the EdTech domain vary depending on the company and audience, including learners, administrators, teachers, trainers, managers, and parents. Providing these stakeholders with actionable insights and meaningful dashboards increases learner engagement, empowers educators, and optimizes the overall teaching and learning process.
Here are some potential user-facing analytics applications in the ed tech sector:
Real-time processing of large amounts of student data

Using data to calculate LTV by sales channel

Use cases: analyzing partner programs and determining the effectiveness of discounts

Flexible and quick data reports and dashboards as the main tools that help the development of successful products.
There are numerous advantages to BI-like solutions for EdTech companies:
Simple data management

Using simple dashboards with a variety of visualization options to save development time

Making faster business decisions based on real-time critical insights

Providing secure self-service analytics to assist all user levels (learners, educators, and administrators) in making progress.
BrightBytes, a Google-owned EdTech company, offers partner-facing data analytics on student progress, engagement, absence, and performance as well as predictive insights for dropout risk prediction, intervention management, and other useful information.
TripleTen, our client and one of the largest online course platforms has implemented an internal BI solution based on DoubleCloud Visualization. It was crucial that their product management team had access to a large number of easily-customizable product metrics reports. Product usage analytics is a dynamic aspect of their internal BI. It generates hypotheses for new product features and initiates new tasks every 2-3 days.
Gaming
Clickstream analytics is the process of collecting, enriching, aggregating, and reporting data to improve businesses in a variety of industries, including the gaming industry. With Clickstream data analytics, businesses can gain valuable insights into user behavior on a gaming platform and their navigation across multiple domains. If tracked and used properly, metrics like daily active gamers, player retention, and average revenue per daily active user can take a business to new heights.
Here are a few examples of what you can track:
Player-game interaction and analysis of how players interact with one another

Analyze risk patterns to detect fake profiles and undesirable behavior.

Real-time visual dashboards and reports for optimal game performance and reliability
Advantages of Clickstream data for companies in the gaming industry:
Determine trends and draw conclusions based on user paths.

Analyze ad effectiveness and conversion rates to boost revenue.

Engage with players and business partners (for example, through customized in-game promotions).
Beetested is an excellent example of a gaming-focused product that helps game developers incorporate player feedback into the development process. To do this, Beetested captures gamers' reactions as they play games by recording their faces. Next, they run the footage through their in-house machine-learning models.
To manage the extensive data generated, Beetested uses ClickHouse, which stores large amounts of data without requiring frequent updates or modifications, allowing their ML models to analyze it effectively. By leveraging the managed ClickHouse service and DoubleCloud's visualization tool, Beetested's team creates interactive dashboards, seamlessly embedding analytics directly into their platform. This approach saves time and resources, as the dashboards can be generated directly from the data stored in ClickHouse clusters.
eCommerce/Retail
It goes without saying that data analytics, particularly user-facing analytics, are critical to the success of any eCommerce or retail organization. Personalizing the shopper experience through data is no longer just a competitive advantage in today's competitive landscape. It is an absolute necessity. So are the store operations metrics.
External user analytics provide valuable insights such as cost per acquisition, cart abandonment rates, average order value, customer lifetime value, and so on. Everyone involved in the transaction, including customers, suppliers, and retailers, can benefit from user-facing analytics.
How can collaborating with a third party to develop a user-facing analytics solution benefit you?
Save time on tech-stack deployment

Make data-driven decisions to improve the customer experience

Increase efficiency and sales to ensure long-term success

Maintain compliance with the regulations
Here are some benefits this solution can offer:
Visualize real-time analytics from your own stores or those of your partners.

Balance the supply chain with the help of insightful data analysis.

Use customer data to better segment and reach your target audience in marketing communications.
Etsy, an online marketplace, is a good example of user-facing analytics because it provides sellers with access to and tracking their shop statistics. By providing graphs and visual representations of key metrics like visits, orders, conversion rates, and revenue, Etsy enables sellers to optimize their processes, increase sales, and improve their overall business performance.
eCommerce case study: How Yango Tech implemented partner-facing analytics with a one-week MVP.
In this article, we'll talk about the power of user-facing analytics across:
Yango Tech is a global technology company that provides customized solutions to help retailers and e-grocers navigate the rapidly changing digital landscape. As an E-Grocery and dark store tech provider, they have over 500 connected stores, generating over $900 million in GMV ARR.
The company creates a universal set of tools to assist traditional retailers and online marketplaces in transitioning from a brick-and-mortar business model to online commerce with significant improvements in delivery processes. The product's integrated technological solutions for order fulfillment, delivery, and analytics establish a new benchmark for stores' commitment to timely and complete product distributions.
While Yango Tech's in-product analytics helped with warehouse management operations, when it came to partner-facing analytics, the company's working solution had a few flaws:
A) Since the pipeline was intended for once-daily batch processing, the data was updated with a delay. Real-time data replication, however, was necessary for partners to make optimal operational decisions.

B) Partners were unable to analyze aggregated data from all of their warehouses. They had to analyze separate reports for each.
The management team required internal commercial reporting with operational metrics derived from aggregated data collected from all partners. However, the current Extract, Transform, and Load (ETL) process was inefficient, taking several weeks to display new data from the backend on the dashboard. Given the urgency to meet the company's requirements, a swift analytics launch was critical.
So, analytics was a fundamental aspect of their partner's basic needs. They also wanted their own Business Intelligence (BI) system so they could monitor the introduction of new partners and set up data pipelines from different sources without having to wait for or invest in any additional development.
To meet these demands, Yango Tech set out to rapidly develop an MVP version of cloud analytics to display real-time data from all partner stores. The final solution had to be fast and scalable, allowing for the seamless addition of new data sources, dashboards, and reports. Furthermore, the solution had to support the embedding of reports and dashboards in the partner and product portal interfaces.
Here is what DoubleCloud did:
1. First, they set up a ClickHouse cluster on AWS S3 with configured access.

2. Following that, the team implemented data transfer from the WMS and ERP backends as well as created reports and dashboards in the DoubleCloud Visualization for partners and the Yango Tech team to access information about all of their stores.

3. The DoubleCloud team created reports with basic commercial and operational metrics for Yango Tech to adjust its business model and look for insights to improve efficiency, profitability, and optimization.
The next step is to organize data streaming in their partners' DWH to enhance their business analytics capabilities.
Final words
The effective implementation and utilization of user-facing analytics are integral to staying competitive in today's data-driven landscape. Whether it's SaaS, AdTech, or any other industry, the ability to harness the power of analytics is crucial for delivering exceptional user experiences and driving business growth. The future will undoubtedly see an even greater reliance on such analytics as businesses strive to understand their users better, tailor their offerings more accurately, and stay ahead in their respective markets.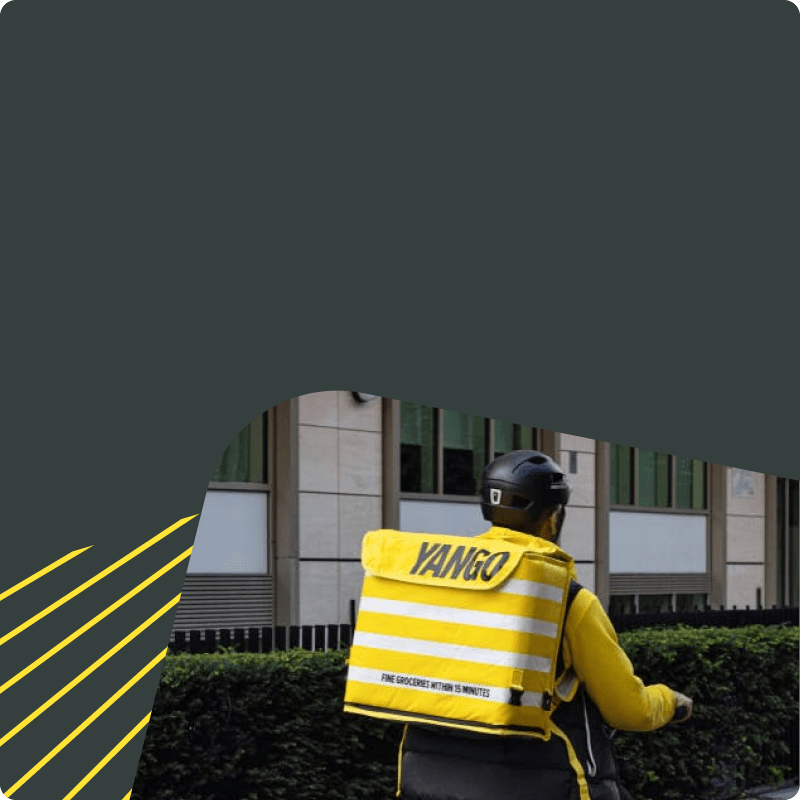 How Yango Tech implemented partner-facing analytics with a one-week MVP