TripleTen replaces Metabase & builds powerful BI with DoubleCloud
Encountering significant problems with Metabase, TripleTen switches over to DoubleCloud for building BI.
TripleTen received a BI solution with extensive data visualization capabilities, which allows for implementing changes and adding reports, tabs, and dashboards every 2-3 days.
DoubleCloud's platform lets TripleTen connect directly to their PostgreSQL database and handle large amounts of data, with approximately 1GB of incoming and 10GB of outcoming transactions daily.
Over 100 users across the globe now have access to up to 30 dashboards from the free visualization tool.
We found DoubleCloud's Visualization is the best BI solution on the market in terms of price and quality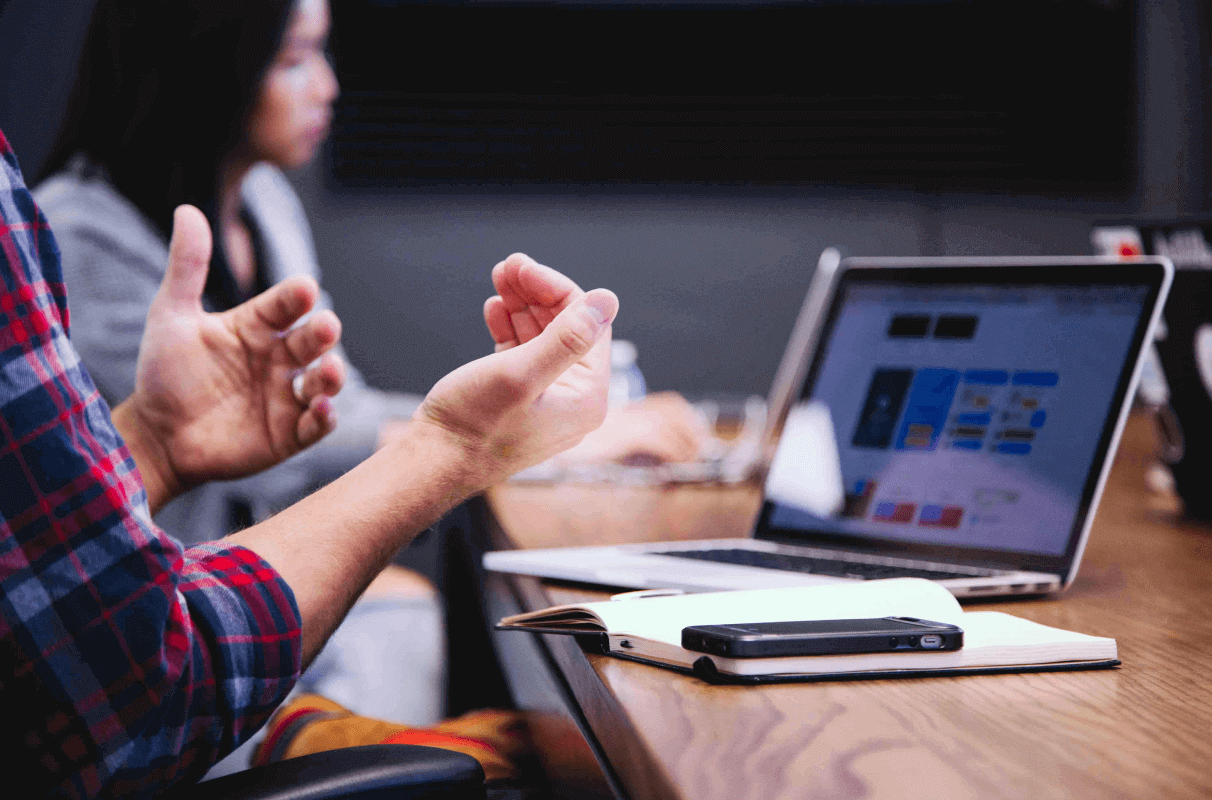 Overview
TripleTen, formerly known as Practicum, is a premier online learning platform that offers comprehensive coding boot camps for aspiring professionals in data analytics, data science, software engineering, and quality assurance.
The company has a strong track record of success, with 87% of its students finding employment within 180 days of completing the course and a median starting salary of $78,500. In the unlikely event that a student is unable to secure employment within six months, TripleTen offers a full refund for the course.
Before DoubleCloud
TripleTen initially used the Metabase platform for its business intelligence (BI) needs. However, some significant limitations were encountered with this solution.
In particular, TripleTen found that the visualization parameters in Metabase were insufficient and required significant coding efforts to create usable diagrams (SQL).There was also need to add various filters to the codebase.
TripleTen needed a new BI solution that allowed for calculated fields, hierarchies, and multi-tab dashboards and provided a wide range of visualization options without requiring dev time.
The Challenge
According to Geoffrey Moore, The Infinire Starcase's author, without big data analytics, companies are blind and deaf, wandering out onto the Web like deer on a freeway.
In order to build an effective analytical ecosystem, it was necessary to understand the goals and objectives of internal BI users. The main data consumers are the marketing, sales, product, and business development departments. Also, the metrics differ significantly. Hence, there is a need for adequate data update frequency and time-to-market in order to make changes to reports and dashboards for use by end-user.
As it turned out, for a fast-growing company developing EdTech products like TripleTen, it is very important to have easily changeable reports with a large number of product metrics for the product manager's team. Product usage analytics for generating hypotheses of new product features is one of the most dynamic parts of internal BI.
Julia Belkina said that itt is important for them that new reports and cuts in existing ones appear as quickly as possible, as requests from the product department come in every 2-3 days.
On the other hand, employees of the marketing and sales departments should be able to evaluate indicators in real-time mode. Another key factor was the flexibility of visualization tools and the ease of connecting new data sources. Compared to Metabase, the built-in DC visualization tool significantly saves the resources of the analytical team, as it does not require development time.
The solution and its benefits
The free DoubleCloud visualization tool turned out to be the perfect solution for TripleTen's business analytics needs.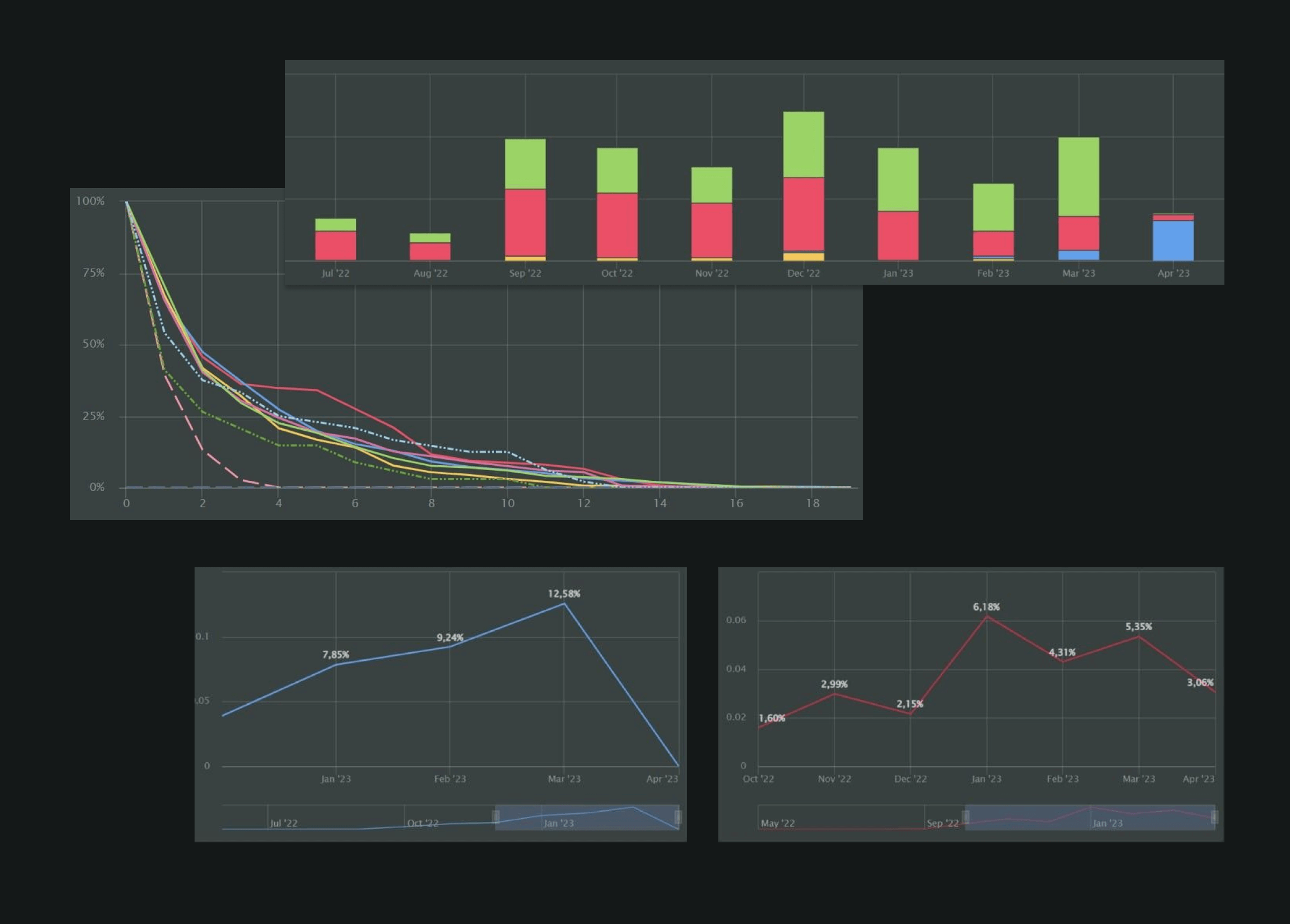 The TripleTen team conducted a series of research and experiments to choose the optimal method to integrate the DoubleCloud Visualization service. As a result of the thorough analysis, it was decided to directly connect DoubleCloud Visualization to the existing DWH PostgreSQL. This allowed TripleTen to focus on work with analytics and develop its Education-platform based on data.
The presence of locks and potential conflicts during updates in the primary DWH PostgreSQL database led to the decision of implementing an intermediate PostgreSQL database. Considering the extensive usage by employees worldwide, locks caused delays and reduced performance during query processing. When primary PostgreSQL was unavailable, BI analytics also became unavailable. Additionally, the constant updates and enhancements of reports and dashboards required modifications to the database structure, potentially leading to conflicts during simultaneous update operations. TripleTen intended to resolve this issue. As a result, the team went to a separate DWH where data is transferred via the Data Transfer service, aiming to alleviate the load on the primary DWH, eliminate locks, and ensure a more stable and efficient operation of the BI system.
Thus, the company received a high-quality solution for internal BI and met the customers' need to analyze a large volume of data approximately 1 GB of incoming and 10 GB of outgoing transactions per day.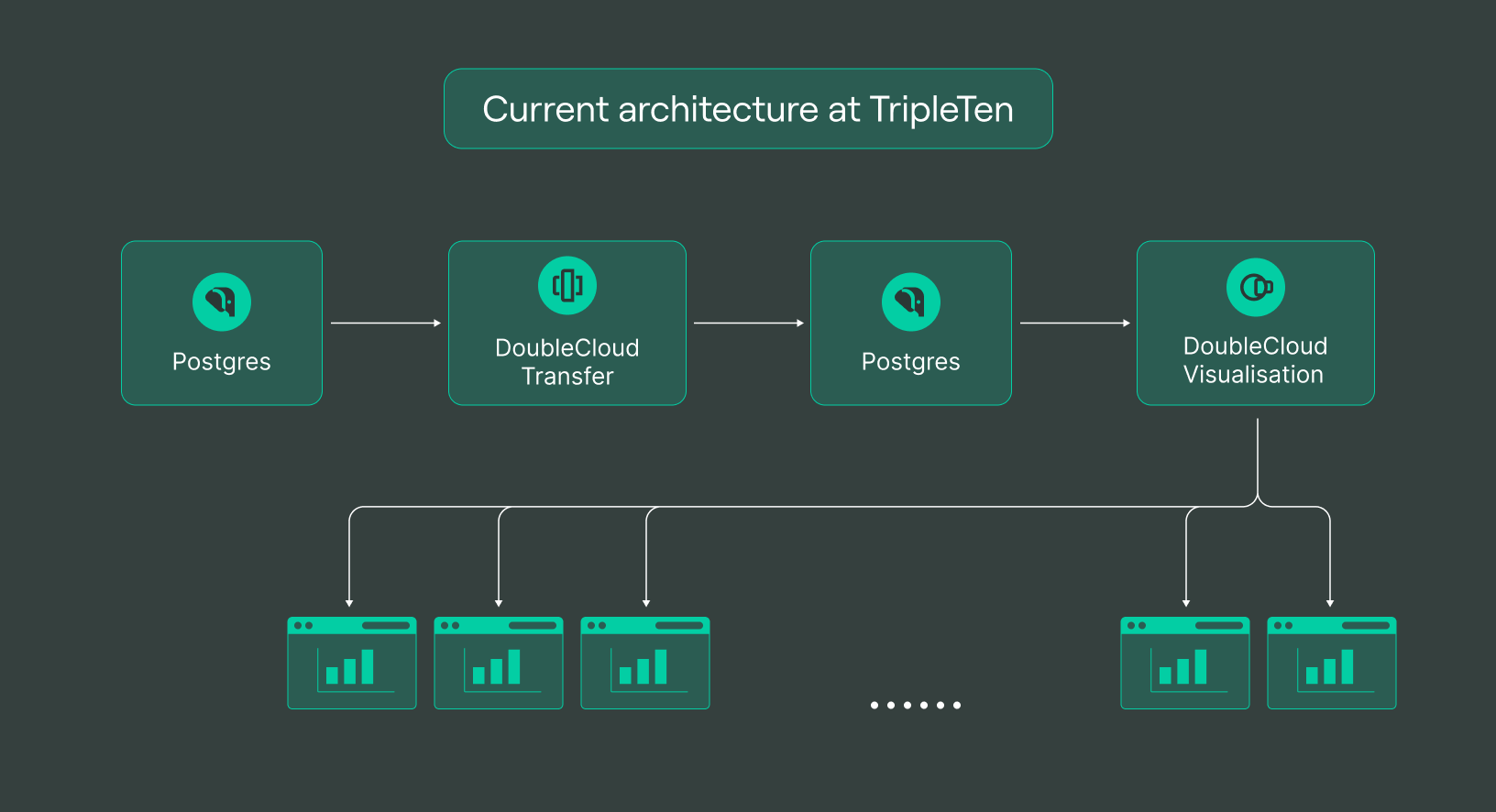 In the future, TripleTen plans to use the Clickhouse cluster, which will speed up the work of BI dashboards and eliminate the current SLA problem.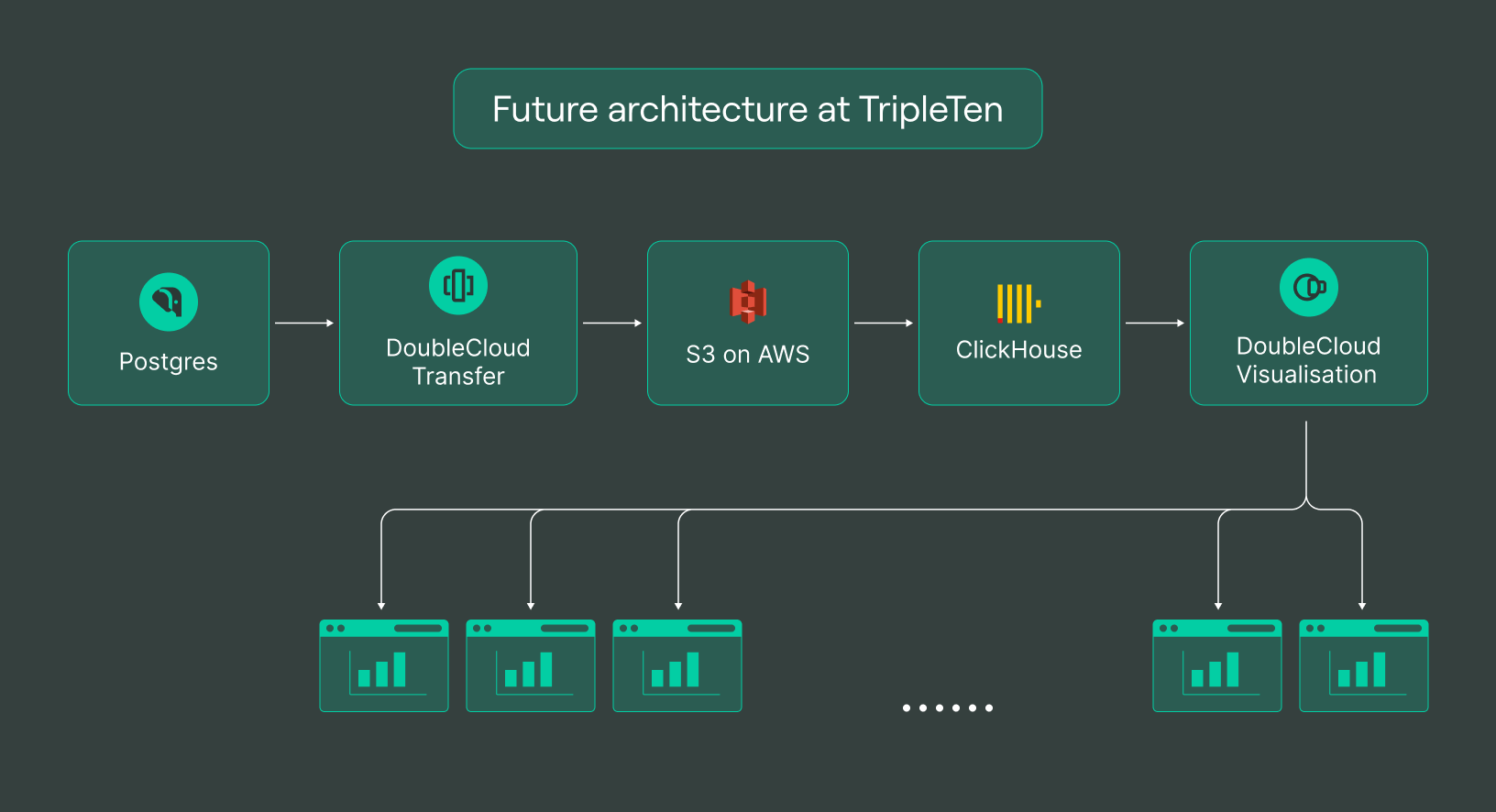 Managed Service for ClickHouse®
By leveraging this modern infrastructure, our tests have demonstrated a significant acceleration of the BI system, resulting in performance improvements by orders of magnitude.
Today, more than 100 users worldwide have access to 30 information panels. These information panels are serverless, which is a huge advantage for TripleTen's SRE.